HV-DWSP-FF Water Filter System
Model HV-DWSP-FF

COMPACT SIZE/EASY INSTALLATION – This single filter water filtration system fits under even the smallest sink cabinets. Measuring just under 15" in height and less than 3 1/2" in diameter, it can fit almost anywhere. Install right in the cold water supply line, all of your cold water from the tap will be cleaner, fresher drinking water quality. The install kit contains 1/2" and 3/8" adapters to make connection easy in most homes (some older plumbing designs may require additional components).
CUTTING-EDGE FILTRATION – This Advanced Technology water filter offers high-level particulate reduction as well as chemical reduction including PFOA and PFAS. Particulate matter in water is very small, so small you typically can't even see it! The physical structure of the HV-DWSS-FF filter media is so tight, it can remove particles smaller than 1 micron! That's 25 times smaller than the eye can see! High flow design (1.5 GPM rated flow) allows for installation in any kitchen or bathroom cold water line
QUICK CONNECT FILTER DESIGN – Makes filter changes as easy as turning a doorknob. Just a 1/4 turn disengages the filter from the head assembly.  Installing the replacement is just as easy! The replacement Filter is HV-DWSP-FFR. Also can use HV-DWSS-FFR.
NSF/ANSI CERTIFIED – HV-DWSP-FF is FULLY CERTIFIED by IAPMO R&T against NSF/ANSI Standard 42 for the reduction of particulate matter and chlorine taste and odor, NSF/ANSI Standard 401 for the reduction of trace pharmaceuticals AND FULLY CERTIFIED to NSF/ANSI Standard 53 for the reduction of PFOA and PFAS, as well as Lead and waterborne Cysts like Cryptosporidium and Giardia. Be Careful! – Not all manufacturers carry full certification. Trust Hydrovos for accurate and truthful certification information.
TRUST HYDROVOS – Hydrovos means Clean Water For You! With a broad range of products for use in all areas of your home, you can trust Hydrovos to bring the cleanest water everywhere you use it.
HYDROVOS HV-DWSP-FF Water Filter System provides fresh-tasting drinking water right at your kitchen sink. Space saving profile allows for out-of-the-way installation and preserves your under-sink storage space. 1,500-gallon certified service life at 1.5 gallons per minute means high-quality filtered water for more than 6 months between filter changes. Installs without changing the under-sink plumbing, so this product is a great choice for renters or homeowners. Trust HYDROVOS – Clean Water for You!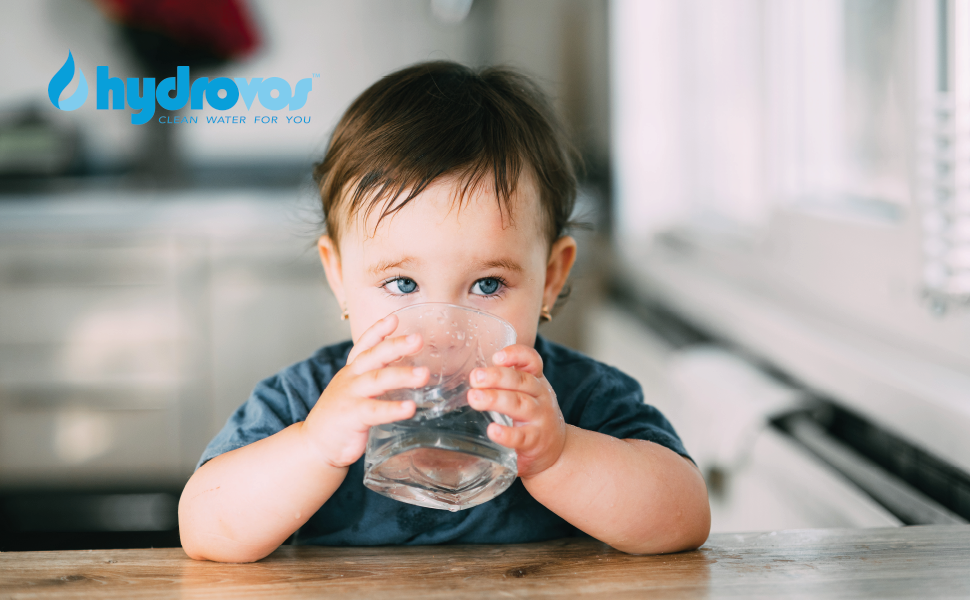 HYDROVOS Premium Under Sink Water Filter Systems bring clean water to you and your family!
BENEFITS OF HYDROVOS UNDER SINK WATER FILTER SYSTEMS
HYDROVOS premium DWSP water filter system is FULLY CERTIFIED by IAPMO R&T against NSF/ANSI Standard 42, 53 and 401 for clean drinking water.
NSF/ANSI 42, 53 and 401 are the leading industry standards for filtration products and systems.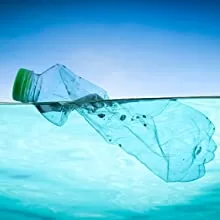 Go Green
Reduce waste from plastic water bottles

Less carbon footprint, more sustainability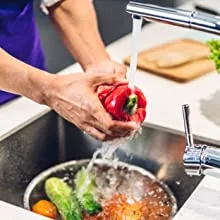 Daily Washing
Clean, fresh water to wash veggies and fruits

Convenient to use, direct from your faucet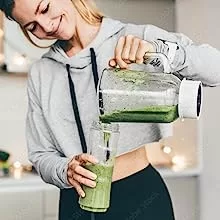 Better Taste
Better tasting water, coffee, tea, and smoothie

Ideal for cooking, baking and meals preparation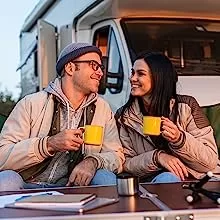 Fits RV
Compact size, ideal for RV

Clean, fresh water for your journey and camping

PET CARE
The Hydrovos HV-DWSP-FF Premium Water Filter System brings clean filtered water to your pets, striaght from your own faucet, helping:
Body Temperature

Digestive System

Organ Function
EASY INSTALLATION & CONVENIENT TO USE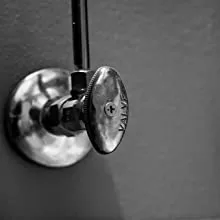 Shut Off Water Valve
Turn off cold water valve under the sink before installation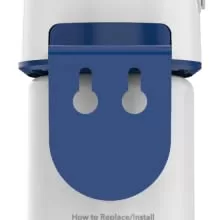 Mounting
Secure the filter system to the cabinet wall with the mounting bracket
Connect water tubes
Follow the instruction manuals to connect the water tubes with the cold water shut off valve and the faucet.
Water IN on the lower left side of the valve head and Water OUT on the upper right of the valve head

For cold water use ONLY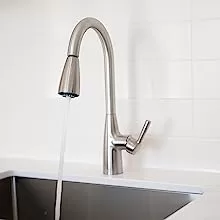 Flush filter before use
Turn on cold water from your faucet and let the water flush the filter completely before first use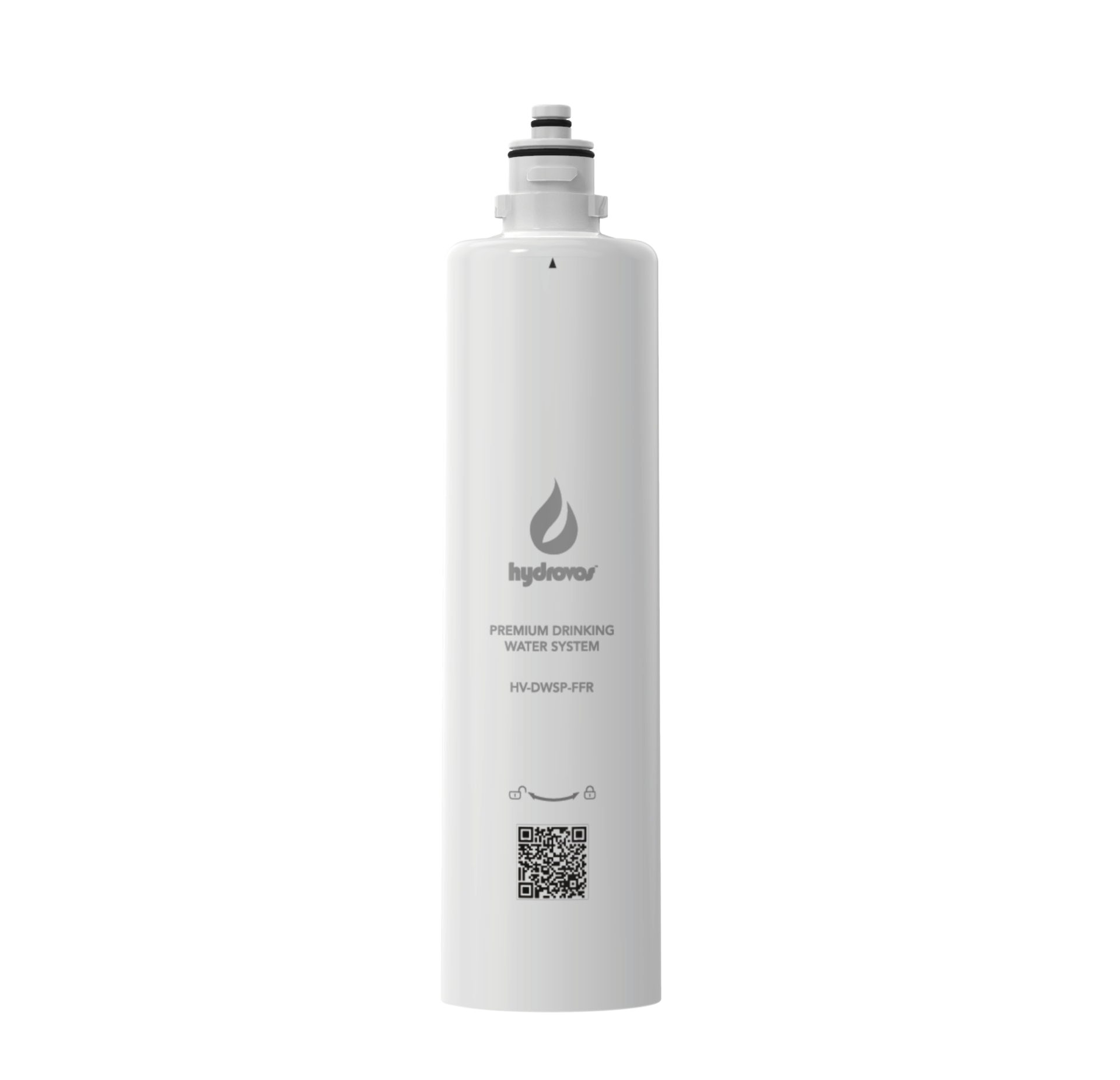 | | |
| --- | --- |
| Certification | IAPMO NSF/ANSI 401, 53, 42 |
| Flow Rate | 1.5 gallon per minute |
| Filter Life | Lasts more than 6 months (1500 gallons) |
| Compatible Model | HV-DWSP-FF, HV-DWSS-FF |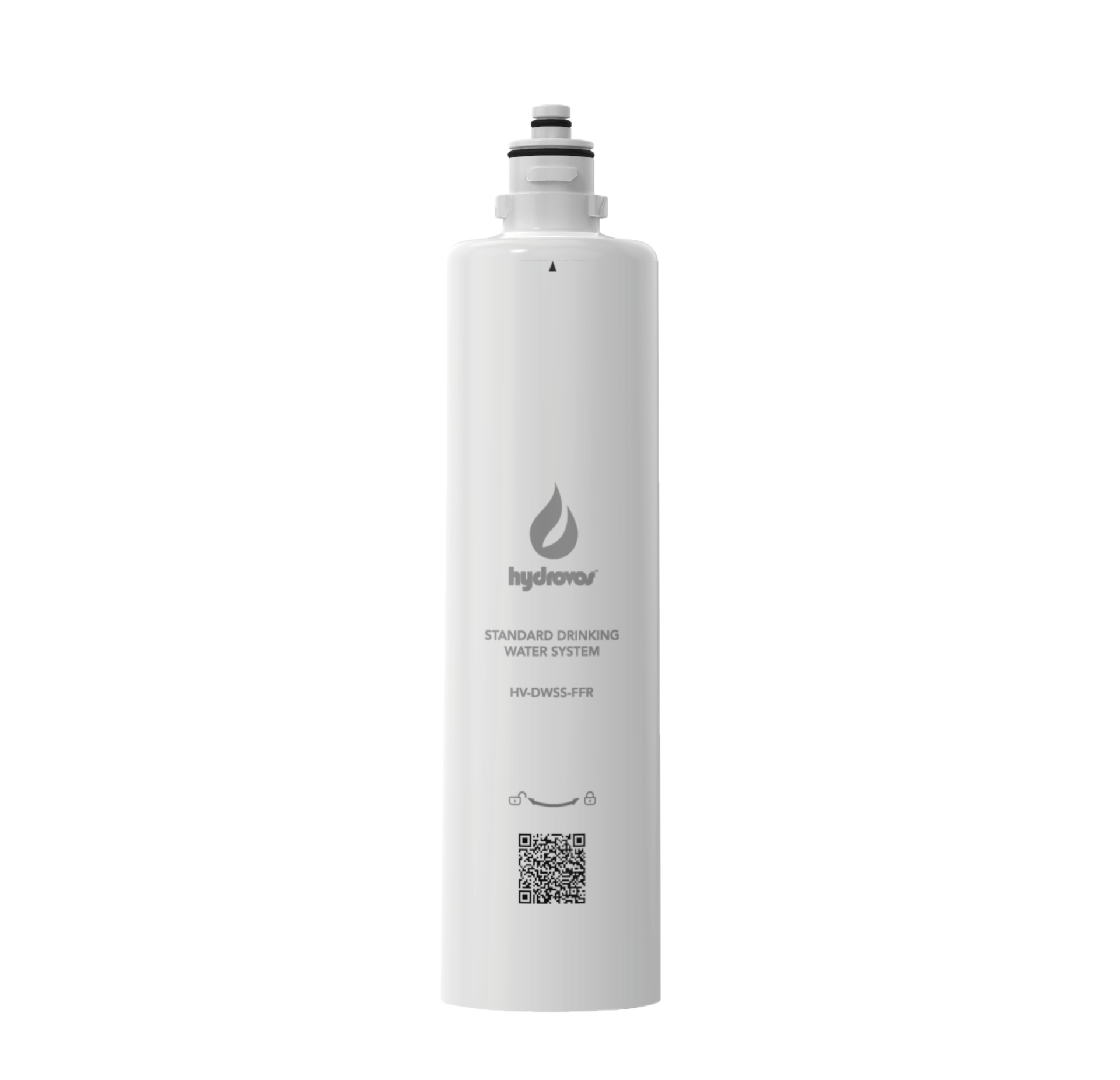 | | |
| --- | --- |
| Certification | IAPMO NSF/ANSI 53, 42 |
| Flow Rate | 2 gallon per minute |
| Filter Life | Lasts more than 6 months (2000 gallons) |
| Compatible Model | HV-DWSP-FF, HV-DWSS-FF |